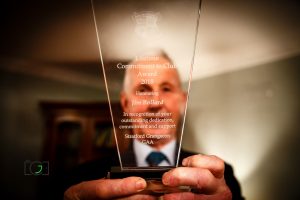 Just reward for Jim
Stratford-Grangecon legend enters club's Hall of Fame
Wicklow People28 Feb 2018HALL OF FAME
Stratford-Grangecon GAA Club's Jim Bollard and his wife Bridget after his induction into the club's Hall of Fame at the dinner dance last weekend. Photos: John Channing Photography.
STRATFORD-GRANGECON GAA Club came together to celebrate last weekend at their first dinner dance in 10 years.
A great crowd turned up in Germaine's in Baltinglass for the event where the club honoured a very special member in the form of current lotto coordinator and groundsman Jim Bollard.
Stratford-Grangecon Intermediate player and juvenile Chairperson Joe O'Neill spoke warmly about the club legend.
"As far back as to the foundation of this club in 1896, this man's family have always been associated with Stratford-Grangecon. His grandfather with a few other likeminded people formed a committee and was on the first team that played a challenge against Castledermot on November 30 that same year.
"But it was with hurling that this man made his first field appearance, in Davidstown with the Byrne brothers from Ballyhook and Brady's from Castleruddery to name but a few.
"The call of the village brought him and many others back to form what must be the best team in the history of the club.
"In 1969, he won a Boothman Trophy medal, which was no small achievement as this competition was open to all grades of all clubs in the west.
"He also won a Corcoran Cup medal that year and was one of the club players that won a county Junior Home All-Ireland. He won another Corcoran medal in 1970.
"But 1971 is the year etched in the memories of this man and his fellow players as the one that made that little bit of history that had eluded them a couple of times.
"A sound Kerry man called Mike Gleeson saw the talent that was before him and brought them their first Junior championship title.
"He won further Corcoran Cup medals, also a Crawl Cup medal in 1978, and was on another Junior championship team to win honors in 1981. With Crawl Cup and Corcoran Cup medals, the silverware was flying.
"He was on the team that lost out to Bray in the Intermediate final of 1981 but was to win his medal as a sub on the winning team of 1983.
"Throughout his playing career he was always deeply involved in the running of the club having positions of Chairman, secretary, groundskeeper, lotto coordinator and development officer.
"His greatest pride is that of being involved with the purchase and development of our own grounds and clubhouse. His efforts right throughout this development were exceptional.
"He is always on hand to open gates, tidy dressing rooms, mark out the field; fixing anything that's broken. His carpenter skills can be seen in the clubhouse. He is also known to have put an odd finger back in place, bandaged a leg or stuck on a plaster – all with positive results.
"No one knows the hours this man has given to this clubhouse. Except perhaps his good wife and children.
"As we make this presentation and enter this good man into the club's Hall of Fame for 2018, we wish to acknowledge the efforts made by his family in letting him dedicate so much of his time to Stratford-Grangecon
"Jim Bollard, this is your night and welcome to the Hall of Fame. Well and truly deserved," he said.