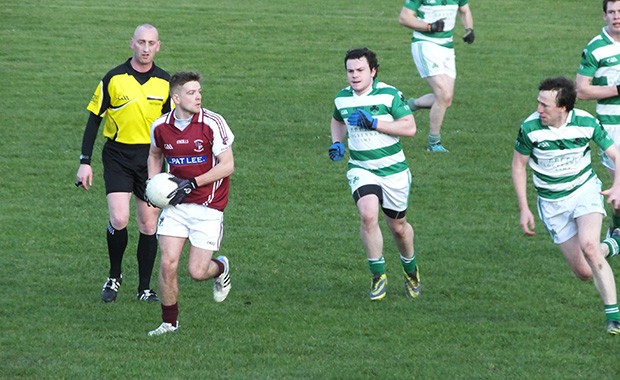 Stratford/Grangecon V Ballymanus
Match Report 7th March 2015
Stratford/Grangecon 2 – 05
Ballymanus 0 – 07

Despite being confronted with the absences of key players such as Jason Bolger, Adam Doyle, Manus Keane and Michael Mangan, the manager John McCormack had no hesitation in handing the mantle to four of his minors. These young players, Colin Byrne, David Cush, Jordan Lawrence and Mark Murphy did not disappoint him. They proved to be unfazed by their introduction into their first competitive match at this level. Not only does this bode well for the future of the club, it is a reflection of the stellar work being done by the Juvenile section within the club.
This was a typical first match of the season affair for both teams, with plenty of mistakes and missed opportunities. However, it was a match that Stratford/Grangecon never looked like losing. Stratford/Grangecon held Ballymanus to level scores at half time despite playing against a strong wind. It was in the last quarter that the home team put it beyond the reach of the visitors.
In the opening minutes of the game the Ballymanus predators laid siege on the Stratford/Grangecon goal. Patrick Cronin did what all good captains do; he led by example and made it abundantly clear that his line was not going to be breached. Paddy Walsh at centre half back marshalled his defence admirably, while Eoin O'Neill and Mark Landon travelled the length of the pitch. Eoin even cropped up to fist home Stratford/Grangecon's first goal.
The line was boosted by the presence of Francis Keane to their ranks and together astute tactical changes were implemented. The switch of veteran Kieran Byrne out to centre half forward unlocked the Ballymanus defence. It was fitting that he should score the second goal.
When Adam Doyle arrived (college commitments), he took over his usual berth at right corner back allowing the versatile Jordan Lawrence to replace Sean O'Neill (who was suffering from cramp).
Manager John McCormack has to be well pleased with the outcome. He has three weeks to prepare for his next assignment against Kilmacanogue. He will undoubtedly use the training sessions on Tuesday, Thursday and Sunday to iron out any shortcomings.
Subs: Conor Humphries, Ian Moore, Tom Sweeney
Players: Patrick Cronin, Jordan Lawrence, Marcus Hanbidge, James Barrett, Matt Manley, Patrick Walsh, David Cush, Mark Landon, Eoin O'Neill (1-0), Mikey Carroll, Shane Byrne (0-3), Colin Byrne (0-1), Mark Murphy, Kieran Byrne (1-1), Sean O'Neill
Match Photos