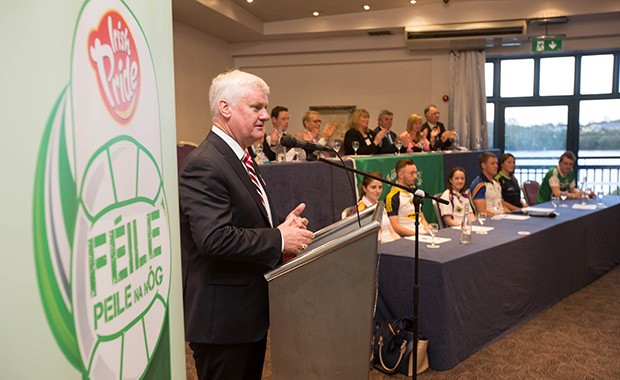 The Féile 2015 launch took place in the Ferrycarrig Hotel, Wexford on Wednesday night 13th May.
Our U14 captain Alan Byrne and our vice caption Andy Foley were both present, as well as Feile Committee member and Stratford Grangecon stalwart Brigid Bollard and Kathleen Byrne.
The night started off with a chance to get photos with Sam Maguire and Wicklow County Senior captain Dean Healy and Ladies Footballer Jackie Kinch. Both Alan and Andy could not wait for these photos and were among the first in the queue!!!! Peter O' Neill, Feile Chairman kicked off proceedings which concluded with GAA President Aoghan O Fearghaill emphasising the need for all players to have fun and commenting on the need for praise, affirmation and positive comments from the sideline – coaches, spectators and parents.

The launch then moved on to a question and answer session ably facilitated by Brendan Lawrence who asked the panel of county players to recount their underage experiences and exploits which lead on to questions about adult football. All in all a most enjoyable evening which sets the scene for Feile which takes place in seven weeks time.
The Club will be hosting its own launch in a few weeks, more details later.